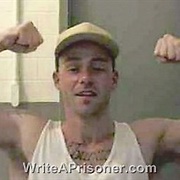 rapaciouswriter258
Cody, 32 y.o.

Speaks
Looking for
Friends
Language practice
Meeting in person
Postal pen pals
Flirting and romance

Joined 3 years ago, profile updated 4 months ago.

Displaying posts 1 to 1 of 1.

rapaciouswriter258
32, Newark, United States

Good Morning! Its now Monday and this week is starting of early, chilled in my prison cell, i block out the noise and drink my dark instant coffee; warmth runs up my body and creativity is a tangable force burning within me and placing this blog makes me free;nothing can hold my spirit down of the spirit of the person who has somethng to fight for! I just want to talk about sterotying and labels and just to let you know i refuse to be labeled ''Inmate'' ''Convict'' ''Addicted'' or even beiing an ''Inmate'' i will not take the label of my past bad decisions because i change them daily so i want you to know that i'' take the labelas write and see where that goes...
Without Wax,Cody