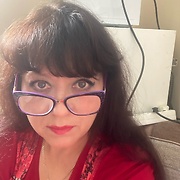 nikiforova1961
Marina, 60 y.o.

Learning
Looking for
Friends
Language practice

Joined 8 years ago, profile updated 4 months ago.

Displaying posts 1 to 10 of 13.

Wanniebooboo
63, Groningen, Netherlands

Privet, kak dela ? Goodafternoon hoe is live in Russia ? Greetings from the Netherlands. Do svidaniya

Night_Runner
58, Little Rock, United States

Well good morning from the U.S. !
JohnIAm
61, McAlester, United States

The glasses say librarian, the glamor says spy. I think you are a spybrarian. I would divulge all my secrets to you.


BigJohn65
71, Exeter, United Kingdom

I just wanted to say how beautiful you are