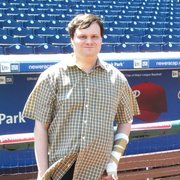 nice_guy
Stephen, 49 y.o.

Speaks
Looking for
Friends
Meeting in person
Flirting and romance

Joined 17 years ago, profile updated 2 years ago.

Displaying posts 1 to 10 of 18.



michael_1962
60 , Sumy , Ukraine

The "Titanic" is a stressful movy. How can you, the Nice Guy that you are, like the stuff like that?

chaotic0004
47 , Milltown , United States

I was visiting and thought i'd stop and say hi :)

BluAprilRayne
61 , Boston , United States

Hi Stephen,
Thanks for visiting my profile. At the moment I'm not looking for any new penpals as my life is very busy right now and I don't have much time to write.
Take care,
Christine
Lismel
40 , Cebu City , Philippines

Just wanted to say Hi after visiting your profile.
:-)

Jessica337
49 , Springfield , United States

Hope you are having a great day today?

dizzy1bibby
51 , Dunstable , United Kingdom

Hello Nice Guy, How's it going? U must be into baseball then? It looks abit like English rounders. I don't know much about baseball.

Elgato
61 , White Island Shores , United States

Hi Nice guy,
Please write me soon and let me know what you think of the the
photos.
Yours
Elgato

hiya mr nice-guy!!!just to say hi as i was passing lol