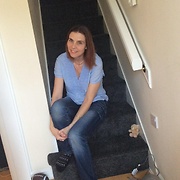 fudgy
Dee, 56 y.o.

Speaks
Relationship status
In a relationship

Joined 16 years ago, profile updated 16 years ago.

Displaying posts 1 to 10 of 54.

No, you didn't reply. Would you like to correspond? Have a nice day 😊

Hi Dee,
We got quite a few things in common; reading, the movies, Sidney. I could be your 4th friend in sunny Goa. Of course, no scams and no romance. Pure penfriendship only. Have a great day 😊


Hi Dee, Greetings. Drop me a line if you want a friend in Goa.

daviemace
55 , Watford , United Kingdom

Hiya, hope you get this, I am unable to get onto my messages for some reason. This site has really gone downhill just recently. So i am just letting you know that I am here but until my messages get sorted out I am unable to get in touch

Aziz2023casa
48 , Casablanca , Morocco

Hello dearly how are you
I am AZIZ fram Morocco happy to meet you

tibamanyaj_74954
34 , Kampala , Uganda

Hi dear I'm Julius Tibamanya from Uganda , kindly do accept my friendship
premchand_57043
55 , Jaipur , India

Hi dear I'm Prem Chand from India, do you accept my friend ship?