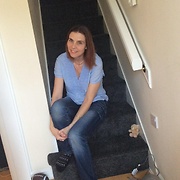 fudgy
Dee, 54 y.o.

Speaks
Relationship status
In a relationship

Joined 13 years ago, profile updated 13 years ago.

Displaying posts 1 to 10 of 33.

coolscotty99
59, Bristol, United Kingdom

hi Dee
scotsman here in Bristol originally from Edinburgh if ur up for a new friends feel free to get in touch
Bryan

FedericaB.
48, Brescia, Italy

Hello. I'm Federica from Italy. I'm here to improve my english.

cynthmards
66, Toronto, Canada

Hi Dee, no worries about romance! I am a single woman from Canada. I'm hopeful that you have similar tastes to me. I was an elementary school teacher Gr.!-5. Liked the younger children as they are eager to learn & don't have their minds on boys or technology but that is not true today!I taught ESL(English as A Second Language) working with young foreign adults who were so much fun , eager to learn, hear about my travels and my life in Canada.I belong to the Presbyterian church away from the Catholic church. I like my new church as they are so welcoming and we go out for lunch and chat at the gathering time and they are not rigid with so many rules and regs. They have prayed for me when I was very ill and I've recovered so well-Miracle! Anyway write to me when have time. Tell me about family, friends etc. Marion

Tischler
50, Kiel, Germany

Hello Dee,
Greetings from the north of Germany very near the Baltic Sea :)