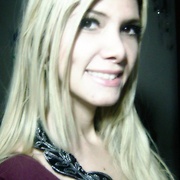 julielara
Julie, 37 y.o.

Speaks
Looking for
Friends
Language practice
Postal pen pals

Joined 5 years ago, profile updated 4 years ago.

Displaying posts 1 to 10 of 150.

SignoreLance
106, Los Angeles, United States

Hello JulieLara, my name is Lance. I am a Spanish and English teacher in California. I also speak Portuguese and I started 3 months ago learning Italian. I would love to practice Italian with you. I am a beginner! But, I am a serious language learner and I have already made 1400 Italian vocabulary flashcards. I can help you with English or Spanish!
Do you want to talk sometime and learn? Ciao Ciao, me piace parlare con te un giornata!
ImNotMarriedYet
44, Chichester, United Kingdom

Interpals itself exists within its own Twilight Zone, if you will, a mysterious realm beyond the senses where nothing is quite what it seems. On my own profile, it is said, that if a man gazes upon it for long enough, the profile gazes back and consumes his mind...

PrincessRay
29, Tupelo, United States

I love the twilight zone as well! It's such a classic.

SamAark
57, London, United Kingdom

Hi Julie, you look fascinating. Such a great profile. I'd love to chat if you would. Have a wonderful Sunday.

chac
35, San Juan de Dios, Costa Rica

hi greetings from from costa rica
Jaml68
52, Barinas, Venezuela

Hola, tenga buen día Usted, leyeendo su perfil se entiende claramente en la causalidad de las personas, mucho gusto soy Jesús y vivo en Venezuela

Ciao come va?? Può sembrare una domanda scontata però per me è segno di interesse e magari cominciare in modo affettuoso di conoscere una persona e di interessarsi del benessere altrui spero che sei d'accordo senza lasciare che sarei onorato conoscerti

UniquelyMe81
39, Manchester, United Kingdom

Hi Julie, very interesting and intelligently written profile 🌺😊 sending positive vibes and love your way 😊💕