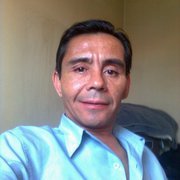 janttonio
Juan, 52 y.o.

Speaks
Looking for
Friends
Language practice

Joined 7 years ago, profile updated 2 months ago.

Displaying posts 1 to 10 of 26.

Madlenka333
36, Bremen, Germany

Hi from Czech Republic and Germany. If you care for a pen pal from those countries, drop me a line.

Anniska
56, Toronto, Canada

Hi Juan,
Greetings from Toronto. If you'd like a pal in Canada, drop me a line,
Annie

janttonio
52, Santiago, Chile

Nada agradecer amigo, si usted lo prefiere.


lia_karter
31, Portland, Australia

THX for visit my profile and the comment:)

Hola! Como está? Sí, estoy a aprender, en un nivel más adelante, pero hay mucho lo que estudiar todavía!

Podría practicar mi español con Vd., si le parece bien?

¡Hola, señor! ¿Cómo esta Vd.?

merryananas
32, London, United Kingdom

Gracias. De verdad mi Espanol es muy pobre ;) Saludos desde Londres