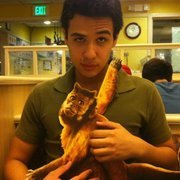 isaac_B
Isaac , 28 y.o.


Joined 12 years ago, profile updated 3 months ago.

Displaying posts 1 to 10 of 10.

xxcharinxx
28, Lantana, United States

hola,
most of my family is in juarez or in gomez. alot of them have come to the US because of the same reason. but yeah my names charin. nice to meet you. =)

dulceemar
30, Hermosillo, Mexico

:))))))))))))))))))))))))))))))))))

Muh_Nur_Ilahi
32, Bangkok, Thailand

Hola~ Nice to meet you!
Greeting from the land of smile TAILANDIA
=D





linguist1993
28, Birmingham, United Kingdom

Como estas?
No, nunca he visitado la Republica Dominicana pero espero que en el futuro, voy a viajar y visitar este país.
Tu estudias, o trabajas?
^^