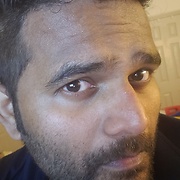 heyhd
Hari, 40 y.o.

Learning
Education
Graduate degree
Occupation
Software Engineer
Relationship status
Married

Joined 15 years ago, profile updated 1 year ago.

Displaying posts 1 to 10 of 58.

platicador
52 , Mexico City , Mexico

Saludos, soy Martín. Si crees que puedo ayudarte a practicar español, será un placer intentarlo ¿Myers-Briggs es algún tipo de test?
Martín
Inaarii
44 , Westport , New Zealand

its a nice rural country paradise place.
Inaarii
44 , Westport , New Zealand

Hey Hari thanks for the visit.

It's more about Dawood than Drug use. These so called celebrities think they are above everyone else. I dont support anyone who uses drugs and then preach how dutiful they are towards country and citizens. One doesn't have to show how much they are contributing for the poor as well (which is another case here simply converting black money to white and income tax redemption).
They lynched two old Sadhus to death which was covered by Republic too which made him a target.
What I find excessively funny is that these liberals keep mum when needed and only speak out if someone tries to expose their dark world behind the Bollywood world of glitz and glamour.

This is the truth though- I dont know if you ever heard of Arnab Goswami. He is the founder of Republic Tv and one of well known faces in Indian Journalism. He is in jail now for the past 5 days because he exposed Hindi movie industry and Maharashtra govt for who they truly are.

Well the news keep me busy and conspiracy theories lol! I do like watching old movies be it horror or war on YouTube (thank goodness who ever uploads them).

I didnt watch a lot of Movies since the Pandemic. The recent (not totally recent of course) Star Wars movies are nothing but Sleeping Beauty children's stories!
I do want to watch the new Nolan movie as soon as it comes out. Did you watch it already? He tells the story in different perspectives that I like and love basing it on human psychology.

They already did mention 1917 as a true story so I expected nothing less. Band of Brothers the war series and a few others portrayed war as the same non stop violence that brings nothing but misfortune. And everything in 1917 was that along with the irony of men standing and taking a leak (excuse my language) while his dead friend and comrade lies there. Frankly I loved it more than Apocalypto.

Hi there Hari. A good profile! Didnt watch many movies in your movie section except Apocalypto. Did you watch 1917 yet?

Aww, I like to dream! Realistically, I don't wanna dream further than 2nd round just yet. Also depends who we face in the 1st, I don't want to go against the Bulls or Cavaliers. I'm just happy we've turned it round, it'll take a wee while but one day that championship will be ours!! Raps fan in Texas? Or hoping for a Spurs repeat?