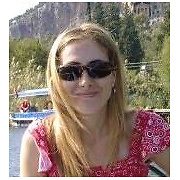 aysen.122
Ayşen, 41 y.o.

Speaks
Learning
Looking for
Friends
Language practice
Meeting in person
Education
Graduate degree
KTÜ
Relationship status
Single

Joined 2 years ago, profile updated 11 months ago.

Displaying posts 1 to 9 of 9.
Alejo111
40, Bogotá, Colombia

Hi, I need practece english too, I would like know about your culture bye ¡
Grebelt_Istan
33, Caracas, Venezuela

hello how are you? I would like to meet you
fnemer
42, Belém, Brazil

Hello Ayşen,
How's it going? My name is Fabio.
It would be a pleasure to exchange a few words with you even in english. I'm also here to learn a little more.

Aysen sıcak karşılama ,,, sevimli ,,
DavidinMO
49, Springfield, United States

Merhaba :) Welcome to interpals.
David