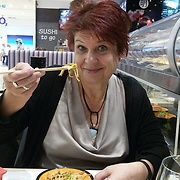 Displaying posts 1 to 10 of 62.

Arunawajira
39, Kandy, Sri Lanka

hello How are you doing greeting from sri lanka Aruna
glad to read your profile and know about you
I hope there pandemic over by now ?
how is your weekend going


eddie60
71, London, United Kingdom

Sometimes crazy. When you get crazy, you smash pots..😀
arrowumar
61, Jarash, Jordan

https://www.morninggreetings.com/wp-content/uploads/2020/12/Wish-You-A-Wonderful-Wednesday-Good-Morning-Have-A-Nice-Day.jpg

agatha_e
58, Białystok, Poland

Hello from Poland .Fine, thanks and you?

Hello from the US, how are you?

RogerCarmel
64, Joliette, Canada

Okay, so you make your own kimchi...excellent! You are now ready for something very, very spicy: Jamaican jerk. I doubt you can find this seasoning at Biedronka!

RogerCarmel
64, Joliette, Canada

If you like hot and spicy food, I suggest you try kimchi. Kimchi is a traditional Korean dish that will set your mouth on 🔥 fire.