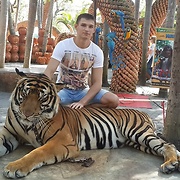 Displaying posts 1 to 6 of 6.

michaelpollock
24 , Hamilton , United Kingdom

hey how are you mate
I want to try and learn Ukrainian

mansoorali_46812
39 , Karachi , Pakistan

i am mansoor from pakistan i Seen your amazing picture do you have this wild animal

MasamiK
32 , São Paulo , Brazil

Wishing all the best to you and everyone else who's suffering with this horrible situation!

Hi, wow what an INCREDIBLE picture? Greetings from the northwest US. I am new to this site about an hour ago so am just getting started.

yoyochanhiuyung
30 , Hong Kong , Hong Kong

Thank you Ukrainians for protecting your homeland and fighting against the invaders. Hongkongers will always stand with Ukraine and do our best to support you. Слава Україні!