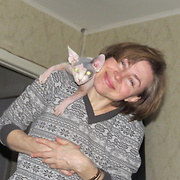 Displaying posts 1 to 10 of 13.
Abdelfa
55, Cairo, Egypt

hello Taty there, i m from egypt can we correspond,do you like Egyptian culture?

Ahmedfares
38, Giza, Egypt

nice to be here .. simple words with clear meanings .. the best wishes for you .. Ahmed


Hello Tanya , from the USA , is that a Cat on your shoulder ?


tito_333
31, Giza, Egypt

Hello, Nice to meet you here, my name is tarek, we have not met before, but I believe friendship can happen by one way or the other. i hope we can become good friend for future reference so we can get to know about each other

Aged 53, likes to laugh, I'm serious, I have my moments.
In search of similar people, see how we get along and what happens when we get to know each other. here is my email address,
[email protected]