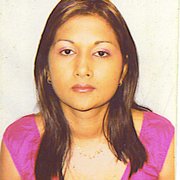 SHAREEDA
Shareeda Sian Ibrahim, 40 y.o.


Joined 14 years ago, profile updated 1 year ago.

Displaying posts 1 to 10 of 56.

Hi how are you? have a great day.


kannan2500
43, Oslo, Norway

hi How r u?sorry,i couldnt send u reply.ill write u later.take care.thanks.k.kannan.

greetings from germany to lovly trinidad

hadriankong
53, Mon Repos, Trinidad and Tobago

hi shareeda im hadrian im from cedros if you are willing we can chat and get to know each other text me at 7734322 and see

The first message is always the hardest one I think, because it is such an awkward thing to write to somebody you don't even know. I have read your profile and I think that you could become a very valuable friend. So feel free to drop me a line!
Yvonne

funmindie
64, Lagrange, United States

hi im from the looking for more pals hope to hear from you vickivoglhotmail.com

hi, loved your profile, would love to be your snail mail or email penpal and friend! : )

nisarksw
47, Mingora, Pakistan

Hello Shareeda and greetings from Pakistan.
NIsar.

Hey
Thanks for being my friend! Keep in touch
K