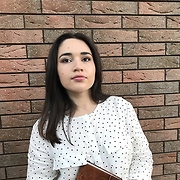 Displaying posts 1 to 9 of 9.

Arunawajira
40, Kandy, Sri Lanka

Greetings from sri lanka Glad to read your profile too
Would love to closer friend to your friend list and know each other with good communication
If you feel free we can start our chat ..

HedySorang
46, Jakarta, Indonesia

Hi Nigina, welcome. I like your appreciation about kindness

henrik63
58, Skive, Denmark

Hi Nigina!
kan vi be friends very best regards from Henrik

EliahChris
25, Bielefeld, Germany

Hey, which countries did you visit and which ones would you like to see the most?


MikeInNashville
37, Nashville, United States

Hello! What is life like where you live?