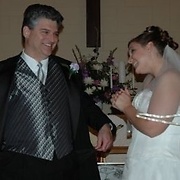 GatewayGuy
Steve, 69 y.o.

Speaks
Looking for
Friends
Language practice

Joined 5 years ago, profile updated 4 months ago.

Displaying posts 1 to 5 of 5.

ooops! Sorry, Catholics, I know better. You don't receive the wine. But, still, how would you say it.

Hola! I am in immediate need of help with a phrase in Spanish. If you are Catholic, Lutheran, or any other denomination that shares Holy Communion, how do you say "The Blood of Christ", or what does your Pastor or Priest say when they give you the wine?


Me interesa es mejorar mi español. Patrocino niños en América del Sur y Central y me gustaría poder hablar con ellos cuando los visite. Son de Guayaquil y Quito, Ecuador; Morrope y Lima, Perú; Gracias, El Progreso y San Pedro Sula, Honduras; El Coyolito y Chalatenang, El Salvador; y Los Alpes, Colombia. Me interesaría hablar con la gente de esa ciudad para aprender más sobre cuándo viven los niños. Pero estoy dispuesto a conversar con cualquier persona que quiera aprender inglés y ayudarme con mi español.

I'm interested in learning more about South American culture. I'm particularly interest in Morrope, Peru and Guayaquil, Ecuador. If you would like to practice your English and you are willing to be patient with someone learning Spanish, I would like to talk to you.
Si usted sabe poco Inglés y puede tolerar a alguien que sabe muy poco español, que podría ser divertido.