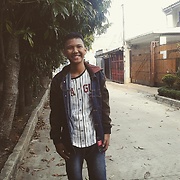 riski1234
Muhammad riski, 25 y.o.

Speaks
Learning
Looking for
Friends
Language practice
Postal pen pals
Website

Joined 7 years ago, profile updated 2 years ago.

Displaying posts 1 to 10 of 17.

Hello, Riski)
Nice to meet you too
I hope, yes

Hmooda01
24 , Dammam , Saudi Arabia

Wa alaikum assalam
Yeah of course

Hi!
Thanks for visiting my page)

of course I want to, because I want to learn the culture around the world, including your country
kelly_981001
24 , Seoul , South Korea

Thank you for drop the walls :) If u really want to be my friend, I mean why not? I want to be your friend, too if u want!


YuliaSotnikova
22 , Irkutsk , Russia

Hi)
I am also very pleased to meet you)