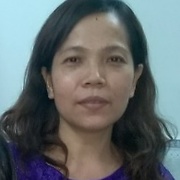 hangthu
Hangthu, 49 y.o.

Speaks
Learning
Looking for
Friends
Language practice
Education
Bachelor's degree
Relationship status
Married

Joined 5 years ago, profile updated 1 year ago.

Displaying posts 1 to 10 of 14.

DennisReads
66, Adelaide, Australia

Hello Hangthu i am new here and i would really like to get some basic in speaking Vietnamese....
Thanks ,

celebrate2020
55, Oxford, United Kingdom

No problem. . I am happy to help you learn English.

celebrate2020
55, Oxford, United Kingdom

Hello Hangthu, how are you? I'm Paul from Oxford, England. Let me know if you want to chat sometime.

Anniska
58, Toronto, Canada

Hi Hangthu,
Greetings from Canada. If you'd like a pen friend from here, drop me a line,
Annie
PS: I don't like being called "Dear" either.

SolenRaymond
57, Salt Lake City, United States

Hi from the western U.S.

Hello to you and welcome to inter pals , thank you for visiting my profile

erinsailor
56, Gallipienzo, Spain

would you be interested in snail mailing with a german woman in spain?

robroy1
64, Haifa, Israel

you are right, what we did here in 70 years not many nations did.we have infrastructure, hospitals,high education and advances technology we sell to the world.
too bad so many see just the 'occupation' forgetting we weren't the aggressor in wars here.