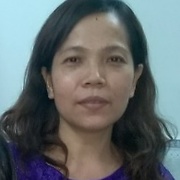 hangthu
Hangthu, 51 y.o.

Speaks
Learning
Looking for
Friends
Language practice
Education
Bachelor's degree
Relationship status
Married

Joined 6 years ago, profile updated 3 years ago.

Displaying posts 1 to 10 of 15.

matt1962
60 , Niedernberg , Germany

Quora.com is indeed an excellent source for accurate information and I use it from time to time too. My daughter is a contributor.
Playerofchess
44 , Bordeaux , France

Tôi đã học một số bài học tiếng Việt, tôi là người mới bắt đầu

celebrate2020
56 , Oxford , United Kingdom

No problem. . I am happy to help you learn English.

celebrate2020
56 , Oxford , United Kingdom

Hello Hangthu, how are you? I'm Paul from Oxford, England. Let me know if you want to chat sometime.

Anniska
59 , Toronto , Canada

Hi Hangthu,
Greetings from Canada. If you'd like a pen friend from here, drop me a line,
Annie
PS: I don't like being called "Dear" either.

SolenRaymond
58 , Salt Lake City , United States

Hi from the western U.S.

Hello to you and welcome to inter pals , thank you for visiting my profile

erinsailor
58 , Gallipienzo , Spain

would you be interested in snail mailing with a german woman in spain?