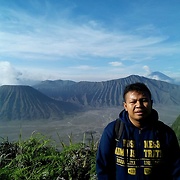 ariaadin
Aria, 26 y.o.

Speaks
Learning
Looking for
Friends
Language practice
Meeting in person
Postal pen pals
Education
Bachelor's degree
Business Administration
Occupation
Business Consultant and Analyst
Relationship status
Single

Joined 5 years ago, profile updated 8 months ago.

Displaying posts 1 to 10 of 14.

Hi, Aria! sorry for not responding but my laptop charger stopped working and today I was able to go buy one. I really want to be ur friend

Agnass
26, Bangkok, Thailand

Hi, Aria
Sorry for answer you so late.
Nice to meet you there! :)

Hello. Thanks for the compliment. Actually english is not my first language. I do speak bahasa, english and theo chew (traditional chinese). And I loved to talk to people to improving my english. I still need to learn Lmao
Honestly no , now don't have plan.I used to study Bahasa indonesia course last year in my unversity and I think this language quite similar with another languages in Asian's countries ,so I think it's maybe give a benefit for me in the future.
But I like Bali , It's beautiful place but now don't have time and money enough to travel there.I'm studying ,don't have work.Thus don't have money also.So sadddd😖

Nice to meet you too.
I'm Charisa.

niiaa11
29, Lisbon, Portugal

Hey :D sorry for the late reply, we can still talk if you want :D pm. Nice to meet you :D