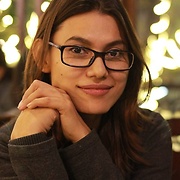 anupama11
Rubina Shakya, 40 y.o.

Speaks
Learning
Looking for
Friends
Language practice
Education
Graduate degree
Rubina Shakya
Occupation
Teaching (Anatomy)

Joined 9 years ago, profile updated 3 years ago.

Displaying posts 1 to 10 of 15.

Astrid170267
56 , Duisburg , Germany

Hello and kind regards from Germany. If you want to, you are welcome to visit my profile, too, and also have a look at my pics on Instagram.
Daniel-2020
45 , São Paulo , Brazil

Hello from Brazil, My name is Daniel.
I'm looking for people to talk and to know about other cultures.
Regards from Brazil

mar6519
58 , Harlingen , United States

Thank you for looking at my profile.

mar6519
58 , Harlingen , United States

Hi I am Marco. I would like very much to become your friend Your profile is quite interesting.


hlwbguy
46 , San Francisco , United States

you want to teach me Nepali and I can teach you English. I also want to know more about Nepal and Kathmandu