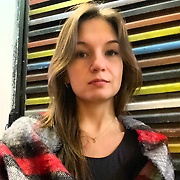 allibi_
Ekaterina, 37 y.o.

Speaks
Learning
Looking for
Friends
Language practice
Education
Graduate degree
University of telecommunications
Occupation
Solution Delivery Manager

Joined 5 years ago, profile updated 2 years ago.

Displaying posts 1 to 10 of 24.

Where did you take your photo?

vetroblu
48 , Bologna , Italy

My best greetings to an IT expert, from another one :)

Hi nice to meet you welcome to Dubai i hope u like
Hola, te recibo en Dubai. Espero que te guste

Ayana09_
26 , Shymkent , Kazakhstan

hi how are you Do you want to be my friend I am from Kazakhstan I know Russian language too so please help me with my English and I am Ayana

allibi_
37 , St Petersburg , Russia

Sorry) I don't look at the time on my wall)
Yes, I am working in IT company, we develop SmartHome system)

Lol that was a very old message 😅, I'm doing great thanks and you? How is it going over there? So you work in IT?

amine1024
41 , Blida , Algeria

Hi
My name is Amin, who is 37 years old
I'm divorced
I want to know my life partner