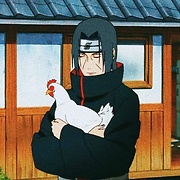 WakeAwake
Gerard, 26 y.o.


Joined 5 years ago, profile updated 4 years ago.

Displaying posts 1 to 10 of 27.
Ami_Bo
18, Warsaw, Poland

He has some recipe in the 'About' section xD He he
noodleisgood
23, Seoul, South Korea

hi there! Did u draw the pic of Naruto by yourself? nice one :)

Leni22
25, Dusseldorf, Germany

Suchmichimwind
71, Wrocław, Poland

GreicyHuertaG
25, Maracaibo, Venezuela

are you crazy?? hellsing 10/10 ♥

Arier_Edvolikice
26, Fortaleza, Brazil

If you're looking for someone to teach you Portuguese, I'm here for it. I'll be glad to help.

NaesTheFox
27, Mesquite, United States

I don't know really, I love all water type pokemon. However, I would have to say it would be Dewgong

NaesTheFox
27, Mesquite, United States

That's cool :D
I like tea in general, and have a thing for Earl Grey.
I love Water type pokemon.

Hi bro
you wanna be friends?