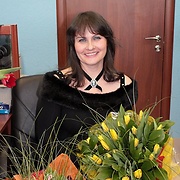 Vera_O
Vera, 51 y.o.

Speaks
Learning
Looking for
Friends
Language practice

Joined 8 years ago, profile updated 1 year ago.

Displaying posts 1 to 10 of 22.

JohnVagabond
69, Plovdiv, Bulgaria

Interesting - he's rather a forbidding figure, isn't he.
You do have a lovely smile - I always look dreadful in front of a camera
Last time I was in St P it was called Leningrad. It snowed.

JohnVagabond
69, Plovdiv, Bulgaria

Oh, I LOVED St Petersburg - want there years ago and got lost on the Metro.

Привет... Thanx for the profile visit...

lucas1186
74, Poitiers, France

Hello,
Я французский и меня зовут Жан Люк
Я живу в Пуатье, где много студентов.
я изучаю русский язык со страстью, но я его нахожу немного усложненным
как это интересно!
If you are interested we can correspond together in the future.
Maybe have you before visited the France?
Do you speak French?
As for me I have never been in Russia but I would like to visit St. Petersburg one day.
That's why I learn Russian with much interest.
I would be happy to receive news from you soon.
Best wishes.
Jean-Luc


Vera_O
51, Saint Petersburg, Russia

benjaminbbartee к сожалению, не говорю.