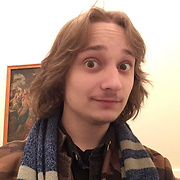 SnowAshe
Jacob Mayeaux, 20 y.o.

Speaks
Looking for
Friends
Meeting in person
Postal pen pals
Messaging

Joined 5 years ago, profile updated 4 months ago.

Displaying posts 1 to 4 of 4.

musicandsoul
18, Krakow, Poland

Great profile!
Greetings from Poland 🙏

Hi! Welcome to interpals!! I just wanted to say thanks for viewing my profile. :)

CanadianMoose
20, Toronto, Canada

Hi Snow Ashe
That sounds fun do you want to talk in messages instead?
Arrivederci,
Bella