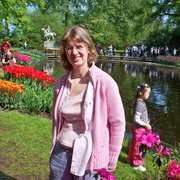 Displaying posts 1 to 10 of 554.

Thank You! Wish you a nice and jolly Christmas time!


Calam101
60, Saint George's, Grenada

Hello there, nice hearing from you, yes I like letter writing, it's an option for me too as well. Thanks
Quennie143
51, Cebu City, Philippines

Thank you. I'm glad to meet you too. God bless.

It's comfortable way. nice to see you.
How can I e mail you? have a nice day

Sassenach61
60, Lowell, United States

Hello! My son has been an exchange student in Krefeld. He's also attended Dortmund University. My genetics are 46% German. If you are interested in becoming acquainted let me know. 😊

LisaElle.
62, Worcester, United States

Hi and you are welcome! Hope you are doing well. I am just learning about this site. I too prefer letters over emails. What kind of recipes do you collect? We have many, many cookbooks! Today, I went with a friend to see "The bridge of flowers" and it was delightful. Take care, Lisa

marmaladeblue
63, Fulton, United States

Hi, my name is Suzy and I live in the middle of the United States. I am also a big fan of letter writing. I'm also interested in learning more about other cultures and how they are dealing with similar issues. Tell me a few things about yourself

Caz9
61, Birmingham, United Kingdom

Thanks. Happy to correspond if you want, but I don't speak German!

Hi Kizza,
I would love to write with you, but I cannot do letters as my hands tremble too much. Nothing serious, just an annoying family thing. So I do Emails only.
I do however like digital scrapbooking so my Emails are far from the ordinary. I mostly make a PDF file to send.
Just see if it's something you would like.
You have a wonderful weekend too!