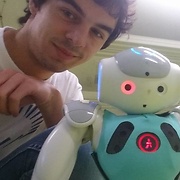 simple_guy_
Sasha, 30 y.o.

Speaks
Looking for
Friends
Language practice
Meeting in person

Joined 6 years ago, profile updated 2 years ago.

Displaying posts 1 to 6 of 6.

LadyFrau
43 , Fountain Valley , United States

love the little robot. MicroSoft store had one greeting guests. I asked it if it could dance and ot said it could so it started dancing like the Forte Night game players. It was so funny.
Does yours dance and teach it self factoids? self learning


Silver_Scarab_2017
44 , Sandusky , United States

Hey there.
Jj here.
How u doing this evening?