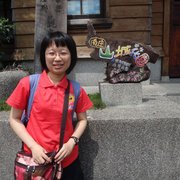 Displaying posts 1 to 10 of 74.

Hey, I am from Abergavenny which is south east Wales. I haven't known anyone who went there. So not surprised if no one did haha. I don't think I ever went to Conway but I went to Bangor a very very long time ago :))

fenrizqlone
39 , Los Ángeles , Chile

Hi. Thanks for answering. My chinese is very very basic, in general i'm learning with youtube channels like "mandarin lab", "bunkyo escuela de chino", or the famous "xiaomanyc" but in spanish subtitled, where they teach to speak more than to write/read.
So, actually i'm try to learn to speak by reading Latin Chinese characters, for me it would be spectacular to learn with traditional characters.

fenrizqlone
39 , Los Ángeles , Chile

Hi, im interested in learning pŭtōnghuà, im from Chile, in return I can teach you Spanish, if you are interested. Greetings.

LifeisaCupofTea
30 , Jiaxing , China

Hello, I am currently an American temporarily working in China. I would like to improve my Chinese. I was born in Taiwan but moved to U.S. in 4th grade, so my Chinese is 4th grade level. Haha

001david
55 , Atlantic City , United States

R u try to exchange friends wif polish people only?

Polneska
33 , Kielce , Poland

古裝太美了! 我喜欢的古裝劇. 你呢?
Thank you very much! It would be perfect if you let me know about mistakes I surely make. You can also write sth in polish if you want. :)

Polneska
33 , Kielce , Poland

(Sorry, I still am still learning chinese on A2 level and am not sure if understood you well. Did you mean, that the dishes in "Sound of the desert" show are so delicious? :) It is! Birthday noodles! Yum!)
我喜欢看中国的电视!现在我不看电影. :( 可能你建议?
(I mean: I like chinese TV! Now I do not watch any movie. Could you suggest?)