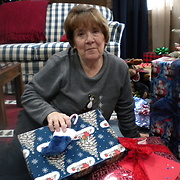 SueVe
Susi, 70 y.o.

Speaks
Looking for
Friends
Meeting in person
Education
Some college
ECC North AAS Nursing AAS Med Assisting
Relationship status
Single

Joined 16 years ago, profile updated 2 years ago.

Displaying posts 1 to 2 of 2.

SueVe
70 , Cheektowaga , United States

I am missing the wonderful gentleman I have been talking to on my messages from Texas City, I so enjoyed our conversation but you felt I was to busy to talk. If your still on Interpals, please get back to me. You seemed like a wonderful person, I enjoyed our conversation. I am sorry I could not get back to you sooner. I can not seem to find you on search, Hope your still here??

Raymechanic
68 , Calgary , Canada

Hello from Calgary, Canada. I went through Buffalo once. Lots of snow!!! We have snow in Canada, but not as much as Buffalo. I am Ray. I am a millwright. I fix machines. You fix people. Similar? I work in Northern Alberta in the oil sands. You share many of my likes/dislikes about people.