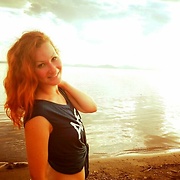 Stacy-lang
Staсy, 33 y.o.

friends, I'm not looking for a relationship here. I am interested in communication and learning English. and I will communicate with you as
- updated Sep 12
Speaks
Learning
Looking for
Friends
Language practice
Postal pen pals
Education
Graduate degree
Krasnoyarsk Agrarian state university
Occupation
assistant Manager in construction
Relationship status
Single

Joined 12 days ago, profile updated 12 days ago.

You must be
signed in
to view Stacy-lang's wall.