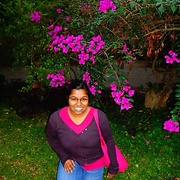 Displaying posts 1 to 10 of 22.
Wolfshape1974
47, Axel, Netherlands

Hello Rashmi,
Yes I completely agree... when we start talking (preferably by ruining someone else's posts 😀)... then we dont stop... soo much in common... also same "weird" interests... also am very happy to have met you... you are a very positive person... I value that very much in you!

Anniska
58, Toronto, Canada

Greetings from Toronto?
My photos show Niagara Fall (Cdn side).
What's PNR?
Anyway, if you'd like a pal in Canada, drop me a line,
Annie who wishes she could see the stars...

hello friend iwould like to correspond with u as ur pal friendship by exchanges email and snail hope to hear from u soon

Thank you! Enjoy and have a good one too! :)

MrUnique
46, Dubai, United Arab Emirates

India and indians has a large and diverse melting pot of cultures and that's what attract most westerners to india.And you're avoiding the very thing what you're searching for. What a shame?

123SAMART
46, Chon Buri, Thailand

I'm glad to see reply your message.
Are you ready to firend.

123SAMART
46, Chon Buri, Thailand

****o,Nice to meet you. I am thailand. I want know india more than. Excuse me I can use little.

tommo76
44, Düsseldorf, Germany

Just thought I leave a short hi after scrolling through your pictures and had a look at your Profile. I really loved the Bhutan pictures. Looks like it must be an amazing place. And I also loved the pictures of Calcutta. With a bit luck I will be going to India next year with a friend. Would be nice. :)
And how comes that you are afraid of the Moon? :)
Greetings from Germany.
Thomas

Just popping by to say hi =) Have a lovely week!