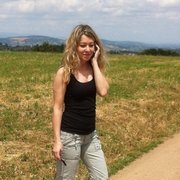 Displaying posts 1 to 3 of 3.

claudineso399
52 , Turlock , United States

Hi there! Happy New year! Best wishes to you! i work in the food industry. I love it. I enjoy making food look pretty and of course I enjoy eating it as well. I am Portuguese but was born in US. My name is Claudine. I hear that it is French. I am named after my grandmother. I live in California the state. I love where I live because it is in the center where if I drive a couple hours I can visit the ocean, San Francisco, or the mountains like Yosemite National Park. So I am very fortunate. This winter has brought rain. We are in need. It has been a drought for some time. I live in an agricultural community. Where there is farming and dairy. I have children and a little yorkie. That I adore. He is my best friend. Hope to hear from you Claudine

Nanna81
42 , Kauhajoki , Finland

Hi!
I got your nice letter today :) Thank you so much, it really cheer me up after working 14.5 hours :)
I try to write a s soon as I can, I think on the next week.
Hugs, Hanna