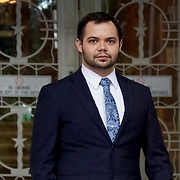 Lincoln22
Jordan, 30 y.o.

Looking for
Friends
Language practice
Meeting in person

Joined 7 years ago, profile updated 1 year ago.

Displaying posts 1 to 10 of 15.

MikGoF
35, Sochi, Russia

Hi! If it possible, I want to make conversation with you, it will be nice practice in English)

riskyren
37, Spring Valley, United States

Hi there. How are you today? What type of law are you specializing in?
Why-me
43, Bangkok, Thailand

Thank you for visiting my profile.
I studied law too. I'm working as a lawyer now.
Nice to meet you.

hello friend iwould like to correspond with u as ur pal friendship by exchanges email and snail hope to hear from u soon
Isaacher123
27, Guadalajara, Mexico

Hi, i'd like to improve my english.

Lincoln22
30, Fort Worth, United States

Hahaha, I like that wise man

As a wiseman once said "so" ;)

Taeheywow
31, Thung Song, Thailand

Hi!! I'm Tae. I'm from Thailand. Nine to meet you.